Respiratory Muscle Training:
theory and practice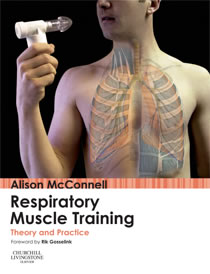 Respiratory Muscle Training: theory and practice is the world's first book to provide an "everything-you-need-to-know" guide to respiratory muscle training (RMT). Authored by an internationally-acclaimed expert, it is an evidence-based resource, built upon current scientific knowledge, as well as over 20 years experience at the cutting edge of RMT research.
"I created "Respiratory Muscle Training: theory and practice" because I wanted to place all of my knowledge and experience into a single, evidence-based resource for clinicians. Not only is the content of "Respiratory Muscle Training: theory and practice" unique, its approach is too – Part One summarises the current state of the art in RMT research, whilst Part Two is an easy to use manual for implementing RMT."
Professor Alison McConnell, PhD.
Author of "Respiratory Muscle Training: theory & practice" - published by Elsevier/Churchill Livingstone
Features:
256 pages hardcover (Kindle edition also available)
Published May 2013
Introductory overviews of respiratory and exercise physiology, as well as training theory
Comprehensive, up-to-date review of respiratory muscle function, breathing mechanics and RMT
Analysis of the interaction between disease and respiratory mechanics, as well as their independent and combined influence upon exercise tolerance
Analysis of the rationale and application of RMT to over 20 clinical conditions, e.g., COPD, heart failure, obesity, mechanical ventilation
Evidence-based guidance on the implementation of inspiratory muscle resistance training
Over 150 functional exercises that incorporate a breathing challenge
Theory and practice
The book is divided into two parts – theory and practice. Part I provides readers with access to the theoretical building blocks that support practice. It explores the evidence base for RMT as well as the different methods of training respiratory muscles and their respective efficacy. Part II guides the reader through the practical implementation of the most widely validated form of RMT, namely inspiratory muscle resistance training. Finally, over 150 "Functional" RMT exercises are described, which incorporate a stability and/or postural challenge, and including exercises that address specific movements that provoke dyspnoea. What's more, these unique exercises have also been made available as video clips, for clinicians and patients alike.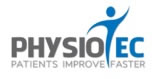 Thanks to a unique partnership with PhysioTec, clinicians purchasing the book gain three months access to the PhysioTec exercise prescription platform completely FREE.

Thanks to a unique partnership with PhysioTec, purchasers of "Respiratory Muscle Training: theory and practice" can build bespoke patient protocols, using Physiotecs online library of over 150 functional respiratory training exercises.
More >

PhysioBREATHE training provides evidence-based guidance on respiratory muscle training for patients with a wide range of clinical conditions.
More >

Professor Alison McConnell is the world's leading expert on respiratory muscle training and the creator of the market-leading POWERbreathe® inspiratory muscle trainers.
More >

Access selected videos of functional respiratory training exercises from "Respiratory Muscle Training: theory and practice".
More >